April, 24th we hosted a safety meeting at our terminal in Burns Harbor, IN. The day consisted of food, seminar from a Indiana State Officer, giveaways, and a trailer with unknown violations to test a drivers thoroughness and knowledge when it comes to inspections.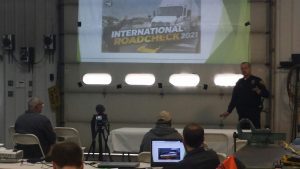 Officer Scott Fleming did a great job detailing International Road-check, roadside inspections and the liability that each driver takes on each and every time you get in the vehicle.  Pre-trip inspections done right and done thoroughly each and every time before operating the unit will save you violations, repairs and could even safe a life if you got on the road with an unsafe vehicle!!!
A Trans-United driver of 14 years said the biggest take away from Officer Fleming's talk was that officers see commercial drivers in the same light as train conductors and airplane pilots. Holding drivers to a very high standard elevates the importance of CDL drivers to be responsible with their equipment as it is all on the driver while on the road.
We often hear of companies with poor safety standards and bad equipment which is a receipt for disaster. DOT officers such as officer Fleming view these companies as liabilities on the road and they are more likely to be inspected then other carriers. A Trans-United truck is unlikely to be picked out of a crowd for an inspection due to our CSA score which shows the attention T-U drivers put into safety.
Without solid, consistent safety practices a specialized carrier will not make it in a world of safety protocols and government regulations. These meetings keep us sharp and taught everyone who attended something due to the perspective of Officer Fleming brought with him.
As a result of the feedback this safety meeting had we will be hosting an additional meeting on July 24th that is open to the public! Follow our Facebook page to be notified about our July 24, event at https://www.facebook.com/truckismohttps://www.facebook.com/truckismo